New Hybrid Access Control Cable works for Wiegand and OSDP, helping installers bridge the gap between yesterday's systems and tomorrow's needs
We just got back from GSX where Paige unveiled our newest composite cable designed to revolutionize access control installations. We spoke to hundreds of customers this week and were overwhelmed with the positive response we got to this new design.
For nearly half a century, the Wiegand protocol served as the industry standard for transmitting data between card readers and access control panels. However, the emergence of the Open Supervised Device Protocol (OSDP) by the Security Industry Association (SIA) has ushered in a new era of enhanced security and interoperability in access control and security products. Paige's composite cable for Wiegand and OSDP is designed to facilitate a seamless transition for installers and end-users.
Let's face it – our industry is hesitant to adopt new technologies. Think about how long it took for us to move from analog to digital video. The move to OSDP has been similarly slow as well and I'd challenge all of us to keep in mind how well the early movers do compared to the laggards. We've previously detailed the benefits of OSDP and the video below is a great reminder of what you should know about OSDP. Today we're adding a solution that will help more installers get their customers ready for OSDP without sacrificing compatibility with existing systems or requiring extra cables to be pulled.

The hybrid design gives you real flexibility, because one cable works on either protocol. So, even if you are still installing Wiegand systems today, you can be ready for OSDP tomorrow.
This innovative cable boasts a composite construction that combines four plenum-rated components within a single jacket. We had to ensure the card reader element contains low capacitance pairs to transmit RS-485 for OSDP while also providing heavier gauge conductors for longer distance power transmission. With a total of six conductors, this cable empowers installers to leverage legacy Wiegand conductors now while future-proofing their systems for OSDP readers, even over extended distances.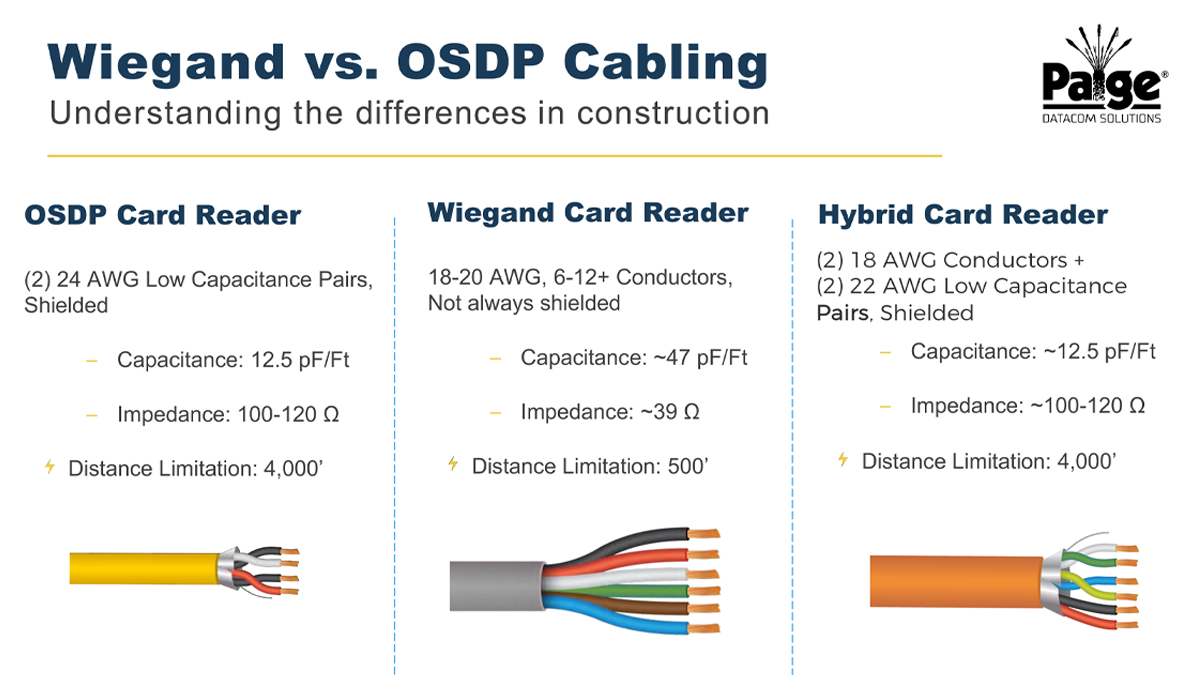 The part number for this innovative OSDP/Wiegand Access Control Composite Cable is 236650807 and is available through our distribution partners ADI, Anixter/Wesco, ScanSource, AccuTech, GCG Building Technologies and other authorize resellers. To view the specs or learn more about our OSDP offerings, please check out our OSDP landing page here.
OSDP™ is a registered trademark of the Security Industry Association.
David Coleman joined the Paige team in 2016 and serves at the VP, Datacom & Marketing. David brings to Paige over 20 years of management experience since his beginnings at Genesis Cable Systems.
David Coleman
VP of Datacom & Marketing