Look up at the light pole near you and you may find a surveillance camera or Wi-Fi Access Point. Installing Ethernet enabled devices on light poles is common, but not necessarily easy. The edge devices are often more than 100 meters from the network, tapping local power may require a subcontractor, the cable may need to travel underground through wet locations, and once you get to the building you may need to transition to an indoor cable within 50 feet of entering the building. The journey from edge device to network switch can be long, complicated and have multiple requirements. As such, many of these types of installations employ multiple cable types, additional hardware and plenty of hassle. Thankfully there's a better way.
The OSP Shielded GameChanger Cable from Paige has always checked a lot of boxes for the installer looking for a single cable to handle most applications and recently it's picked up another important listing for those applications where IP Video or Wireless Access Points are being installed on light poles.
The new 600V AWM listing now allows GameChanger Cable to more simply be installed inside street light poles where higher voltages will be present. The National Electrical Code dictates that conductors of different systems in the same raceway must have insulation ratings equal to at least the maximum circuit voltage applied to any conductor. That means that if you're installing a typical low voltage Category Cable in a light pole, you'd need to add a flexible conduit or other form of physical separation -adding extra time and costs to the project.
As you work your way backwards from the IP device mounted on the pole, there are a number of other cable requirements to be aware of. If the cable is going to be in conduit underground you should assume the risk of water intrusion. OSP GameChanger Cables have a water-blocking gel filled core to ensure your network performance doesn't suffer in the event the cable is lying in water.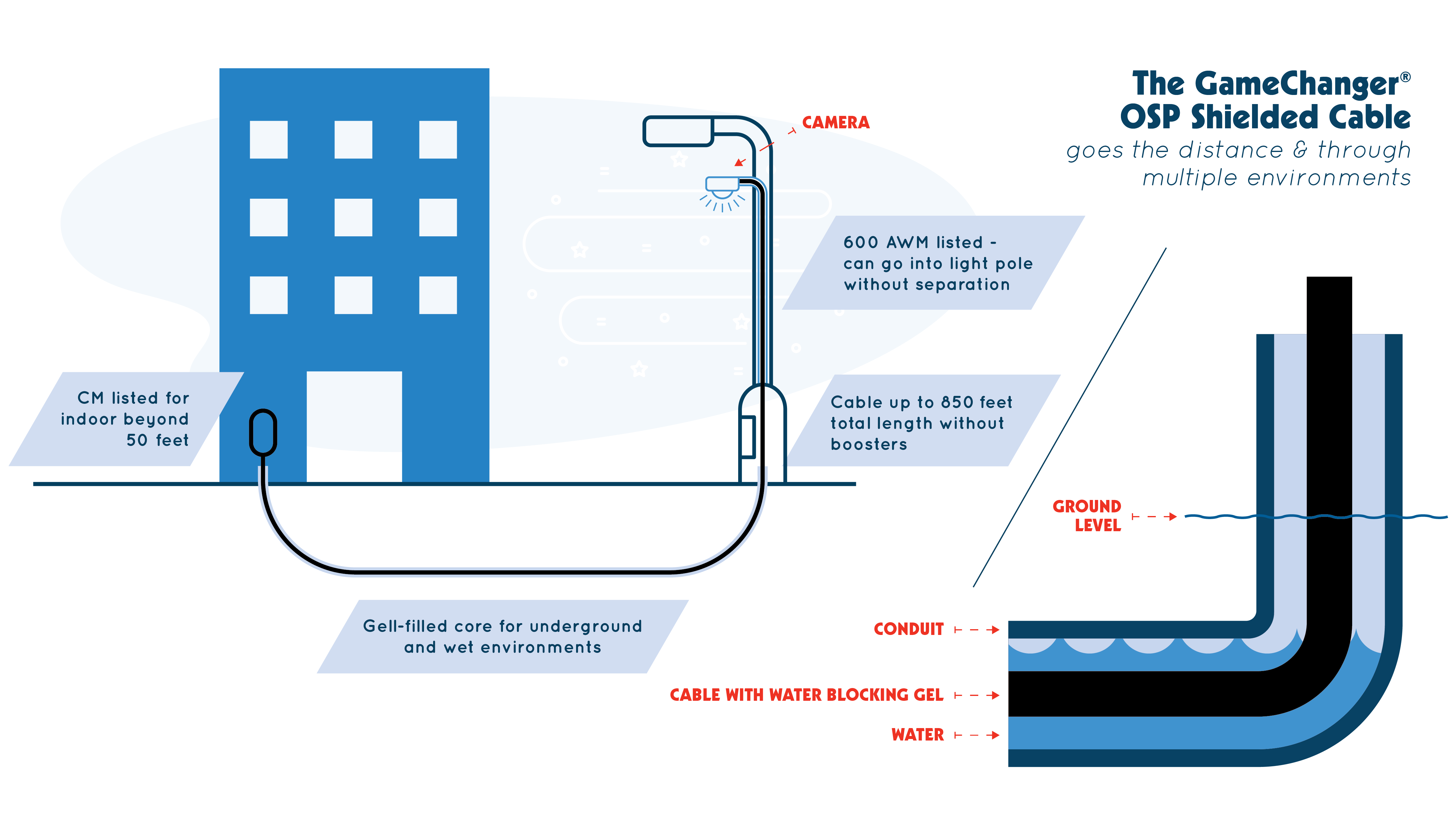 OSP cables do a great job blocking out the outdoor elements, but often need to be transitioned to an indoor rated cable within 50 feet of entering the building. Thanks to the CM listing on the OSP Shielded GameChanger Cable, installers can continue the cable run beyond the 50 foot limitation and run the cable horizontally in non-plenum spaces and even travel one floor up or down.
As with all GameChanger Cable constructions, the Shielded OSP GameChanger can also deliver 2.5Gbps and 100W PoE up to 656 feet (200m) or if you need to go farther, GameChanger Cable can deliver 10Mbps and 100W PoE up to 850 feet (259m).
Looking to simplify your design today? Look for part 258340804 at your favorite distributor. You can purchase GameChanger at our Platinum distributors: ADI & Wesco/Anixter; through our Gold distributors: Accu-Tech & ScanSource as well as select Regional and Authorized Resellers.
Looking for the press release on this topic? Click here
David Coleman joined the Paige team in 2016 and serves at the VP, Datacom & Marketing. David brings to Paige over 20 years of management experience since his beginnings at Genesis Cable Systems.
David Coleman
VP of Datacom & Marketing